Post by standbyjerry on Apr 28, 2006 3:51:06 GMT -5
Xu An An suffered and got sympathy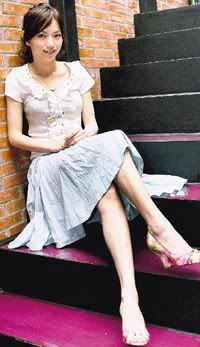 Source:
udn.com/NEWS/ENTERTAINMENT/ENT2/3283870.shtml
April 28, 2006
--------------------------------------------------------------------------------
Jerry attended to Xu An An's injuries in shooting their drama
Summary only:
1. Xu An An didnt blame anybody when she once suffered injuries in shooting the drama "The Hospital" in a scene where Jerry dragged her as far as 5 meters. For that, Jerry apologized and attended to her bruises, and during the breaks, the two were still holding hands to comfort each other, letting Xu An An feel releived from the accident and called out, " He is very considerate! His kisses are full of affections."
2. In shooting her many dramas, movies and MVs, Xu An An would suffer accidents every now and then. There was a time when lights fell and smashed at the doorway that hit her forehead, but she continued to shoot.
3. Xu An An and Jerry had a wedding scene in The Hospital. Then Jerry didnt know he stepped on her skirt, dragging her to fall behind him. As soon as he saw her fall, he immdeiately came to her and asked her how she was. Her low-chest shirt was dragged under, revealing her chest, that she finally lied down to the ground to cover her chest with her hands while keeping quiet. Once again, she was really hurt.
4. In their first scene together where Jerry was drunk and causing disturbance, Xu An An exerted too much strength to grab him, and his fist strikes and kicks all finally landed to her. Xu An An was so hurt that she immediately chose to squat on the ground. Jerry then rushed to her and apologized and both understands each other. Some times, when the director calls "CUT", both of them are still taken in the scenes, he specially pulled and held her towards him and sometimes, kisses on the cheeks.
Summarized by Jerry's Kingdom. Thank you for the credits.
-----------------------------------------------------------------------------------------------------------------
LUCKY.....LUCKY XuAnAn...being able to be hold and kiss by Jerry..eeemmmm