Post by standbyjerry on Jul 8, 2006 3:16:03 GMT -5
Jerry's Used Stethoscope and Doctor's Jacket
will be auctioned for charity
Original Source: Min Sheng Bao
This Source:
udn.com/NEWS/ENTERTAINMENT/ENT7/3395122.shtml
July 8, 2006
Original newspaper scan by mamy of http://www.yanchengxu.net:
www.yanchengxu.net/bbs/UploadFile/20067812131318430.jpg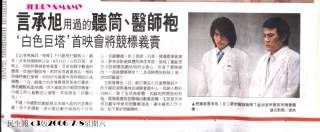 Want to have the doctor's jacket that Jerry wore?
Join the Preview Charity Conference and get the
chance to have it auctioned
It's not only in dramas where we see a doctor save lives. Outside the dramas, Jerry Yan actively makes charity work. At the Preview Press Conference of "The Hospital" on August 12, it will hold a Charity Auction at the same time, where Jerry's stethoscope, doctor's jacket, etc. will be auctioned for Charity. Fans are expected to madly go for it, because all the proceeds will be donated to a charitable beneficiary, and in order to raise funds for "The Hospital's" huge promo expenses. whose total will reach up to $3.5 Million according to reports. Yesterday, the drama team and CTV crew have started to meet, and while the CTV crew had finished counting up to 7 zeros, they laughed and said that it's really "stunning!"
However, for CTV, the proposal of the drama team to include the putting up of tents in the promo plans , is also very touching, and shows the Cai Yue Xun couple's full intentions. Not forgetting big and small luxuries, from the street traffic, public transportation and quick movements that must all be looked into. A lot of non-showbiz media interviewers learned that the drama team wanted to have it really big, but what gives them the most headache is, where will the funds come from? Second, since the Previiew Showing will allow fans to enter the venue, how can they screen them?
Before, rumors were going around that "The Hospital" team planned to hold the Preview in a small and then in a very large oval venue. Yesterday, it was finalized that the Preview Press Conference will be held at the International Conference Center which can accomodate approximately 1200 people. Besides reporters coming from all over Asia, the remaining seats will be open to fans. The highlight will be the auction selling activity, especially the medical tools which Jerry actually used in the drama. Now, even the CTV staff personally wants to bid their way to the auction.
Rough Translations only by Jerry's Kingdom. Please bear with some errors, if any. Thank you for the credits.