Post by standbyjerry on Apr 14, 2007 6:10:58 GMT -5
Wu Zun refuses to lift the chair for Jerry Yan
as the handsome men fight on and break-up working together
Source: Liberty Times
www.libertytimes.com.tw/2007...today-show1.htm
April 14, 2007
summary by
jerryskingdom.tk
thanks to a1958 of
www.nbbbs.com
for sharing
IMPORTANT NOTICE: FOR YOUR READING ONLY. PLEASE DO NOT FORWARD OR TRANSFER TO ANY WEBSITE WITHOUT ASKING PERMISSION FROM JERRY'S KINGDOM. THANK YOU.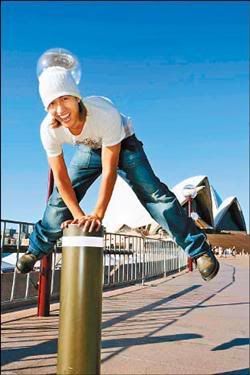 The joint project of Bao Long and Wu Zun breaks away
as handsome men fights in the hard-to-delay " basketball fire"
(photos provided by StarJerry)
The new drama "Basketball Fire" will start shooting soon. This project and the Japanese anime " Slam Dunk" are somewhat dentical in plot, where the first lead " Ying Mu Hua Dao" was originally set for Yan Cheng Xu "Jerry" while Wu Zun was tapped for the second lead man "Liu Chuan Feng" , in a first mutually awkward performance for the two huge " idol handsome men". A few days ago, however, there were rumors that Wu Zun schedule was already full, and has no wish to act as a substitute for Jerry in lifting the chair, so the two men working together unexpectedly fizzled out.
Having about 20 episodes and to be produced under GTV, it is expected to be aired in summer where most likely, it talks about a university-based men's basketball team with two star players colliding each other. In the story, they would emerge from being enemies and finally working together, where they would join hands to grab the next national championships crown.
In Wu Zun's leap to fame, will he be unsuitable for a second lead?
According to a staff member who disclosed, Jerry will act as the hot-tempered "Ying Mu Hua Dao" and the original cast Wu Zun as "Liu Chuan Feng", a cold character. Too bad that Wu Zun has already committed himself to "Little Princess" "The Hana Kimi Sequel" and many more idol dramas this year, therefore gracefully refusing to join the project.
Bao Long loves basketball. Wu Zun was also once joined the national basketball championship in Brunei, and the drama group regarded the two as a " dream team". However, according to sources, when Fahrenheit soared to fame last year, Wu Zun's talent fee also leaped high. Because of this, his management company then added and checked on "Basketball Fire" first lead Jerry Yan. If Wu Zun would join the cast, the newbie's scenes in the drama are bound not to be equal to the senior, to appear as if Jerry is the one lifting the chair.
Very offended on being second, manager denied
Wu Zun's manager Dong Pin Cen said " That's boring. We don't know who is heavy or who is light in the drama, so how come it would be offending to the second male lead." She said that Wu Zun has already scheduled his shootings for his new dramas for this year, so of course he can no longer commit to the "basketball" drama, but rumors immediately concocted that he refused being the second lead, so she had no choice but to say that there are many good and bad famous people. GTV Film Planning Department manager Chen Zhi Han then followed," That drama took us much time to prepare, including the casting of Jerry Yan, and its selection process are already secretly being undertaken, so at present its inconvenient to reveal too much details.
***********************
welga: Wu Zun is already acting big shot!!
However, his refusal to act with Jerry only revealed how "chicken" he is, because he is just too afraid to be "overshadowed" by Jerry's acting and charisma.
======
SLAM DUNK trivia: (source: wikipedia)
Hanamichi Sakuragi, (Jerry's would-be character) wears Jersey #10, the red-haired (also shaved it during a protest match) Power Forward, and is constantly being dumped by girls. His deep love for Akagi Haruko led him to try-out for the Shohoku University basketball team. But being a complete newbie, despite his great height, stamina, speed and leaps, he wasn't able to keep up with the more experienced players of his team. But because he regards himself as a genius, coupled by his annoying arrogance and huge self-confidence, he was able to improve his skills throughout the series, trained by Haruko to become a formidable rebounder, while Coach Anzai developed his jump shooting. Although his love for Haruko and rivalry with Rukawa are the main driving forces motivating him to succeed in basketball, his injury during the Sannoh match makes him realize that he has actually come to love the game, leading him to give his all for his team and bring them victory.
Kaede Rukawa (Wu Zun's character) wears Jersey #1, a Small Forward, who is more of Saguragi's opposite - attractive to girls including Haruko, very skilled in Basketball, but very cold and unfeeling. He regards Sakuragi as an idiot. His hobby is sleeping, Rukawa is subsequently named a member of the All-Japan basketball team. (Ironically, his birthday falls on January 1, just like Jerry's