Post by standbyjerry on Aug 12, 2006 23:06:56 GMT -5
[8/11]Bao Long Established Official Website To Snatch Fans From F3
Source: Liberty Times
translated by kkla of
www.nbbbs.com
(If you want to transfer this, please transfer the whole post, including comment section, and please include this
note when transferring. Thank you. )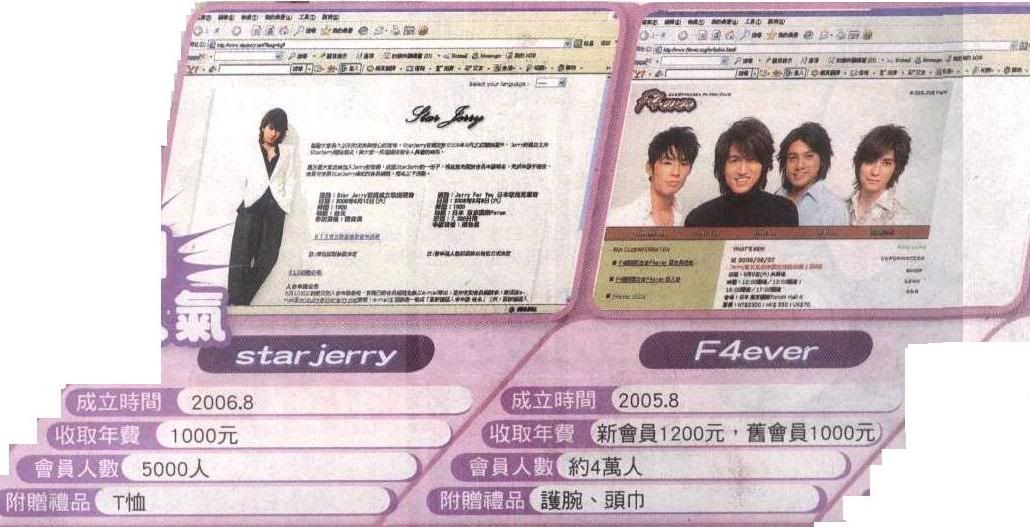 Since "Bao Long" Yan Cheng Xu seperated from F4, he has taken a lot of actions. Other than starting his own team, he has also established his Official Website, starjerry, which eagerly accepts membership applications. In only a few days, quite a number of F4 Official Fan Club members have changed to be starjerry's members. According to source, Yan Cheng Xu's Official Fan Club has already had 5,000 members. If each member's enrollment fee is NT$1,000, it is very easy to gain NT$5 millions.
Old members of F4 Official Website
Turned into members of Bao Long's Website
Yan Cheng Xu's Official Website (www.starjerry.net) was established in August this year, eagerly accepting membership application. Coincidently, it is time for members of F4ever (www.f4ever.org) to renew their membership. A lot of Xu's fans indicate that they have already turned into
members of Starjerry, and they won't renew their membership with F4everB
According to source, F4ever's yearly membership fee is NT$1,000, which is the same as Starjerry's. Therefore, Starjerry has attracted quite a number of old members of F4ever. Yesterday, Yan Cheng Xu's assistant indicates , "Up to yesterday, Starjerry has had 5,000 members. Recently, the mailbox was collapsed due to too many applications."
HK Fans Spent NT$500,000
Public Buses With The Hospital Ads Starts Running
With NT$1,000 membership fee for each member, if there are 5,000 members, Bao Long's Official Website has obtained NT$5 millions. His ability to attract money is really powerful. Tomorrow (12), Bao Long plans to have private gathering with Official Fan Club's members to celebrate its establishment. It is estimated that about 2,000 fans will attend the gathering.
Yesterday, F3's agent, Zhi Xiang Li, indicates that F4's Official Fan Club has 40,000 members and half of them are Japanese. He has heard about Yan Cheng Xu's Official Website, but he won't concern that it will snatch a lot of members. It is because F4ever's members have priority in F4's group activities, so there are still benefits to maintain the membership.
Besides, days ago, Yan Cheng Xu's HK fans spent NT$500,000 to buy ads on public buses in Taipei for promoting The Hospital. It is estimated that those buses will start travelling in Taipei City today.
========================================
kkla's comment: F4ever's membership renewal was in June and July. I think Jerry is nice enough to wait until F4's Official Fan Club finished its membership renewal,
then he announced the establishment of his Official Website/Fan Club in August. For the Jerry fans who joined F4ever last year, Jerry was not arranged to attend any
activities in Japan and F4ever didn't arrange members to attend any Jerry's individual activities/events. For Jerry's fans, as Jerry has established his official fan club now,
it is natural for them to join Starjerry. For F4 fans, of course they will stay with F4ever. Nevertheless, I don't think Starjerry has snatched members from F4ever. Actually, some Jerry fans may not join Starjerry this year as they have already renewed their F4ever membership in June/July. BTW, this reporter should provide the figure F4ever has obtained last year as well, 40,000 members x NT$1,000 = NT$40 millions