Post by standbyjerry on Apr 16, 2006 2:35:50 GMT -5
In Switzerland,Lin Zhi Ling clears up Jerry Yan
Shows a protest note "of reporters' stalking"
Source:
www.appledaily.com.tw/AppleNews/ind...0401&Sec_ID=9&A
rt_ID=2506571
April 1, 2006
LZL innocently held up a paper note
to clarify the rumors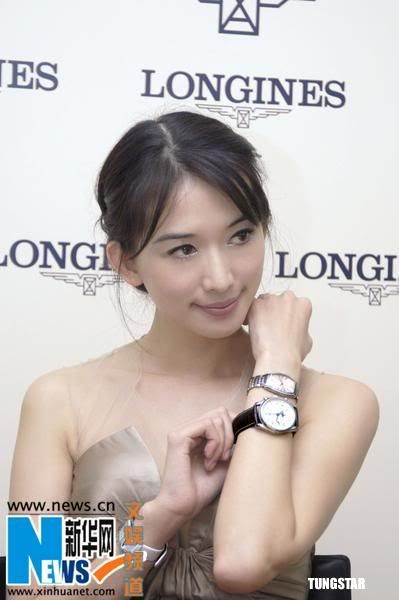 LZL wanted to compete up with Lonngines (Lanq Qin) watch launching yesterday in Switzerland, and wrote down " I was stalked by reporters' XXX reports" in a paper note, and innocently responding regarding the 7 hours secret meeting with Jerry in HK. Moreover. she clarified the reporters' news report that she went at the F4 Concert in HK and she said, "They had invited me, but I was busy with work, so its really too bad,o!"
On March 27, bacause of Lian He bao's news of "Cheng Xu and Zhi Ling Missing for 7 hours" , indicating that both took advantage of their free time to secretly meet in HK, that after the news reached her, she then faced the media in Switzerland, and prepared to come with a written note with the words " With that missing 7 hours, I was stalked by reporters XXX reports " , and said that she was busy dying her hair in HK, protecting her hair and filming a shampoo commercial so she had no time to meet with good friend Jerry Yan.
Denied going to the concert
Moroever, fans indicated that they heard that LZL and her assistant sat at row 21 to see the March 23 F4 Concert in Hong Kan. She denied this and only said, "I really thought of going." Four years ago, she excitedly joined an F4 Concert. When Jerry passed on to them, foreigners became high and then frankly said, " I'm happy for him. I wish the media can confirm, and better not criticize too much. "
With many Jerry news raining over her, LZL said that it has not affected their friendship at all. Usually, they both pass on simple news to show care for each other. Being Longines' global endorser, she 's now in Switzerland then would buy many wrist watches to give to her dear friends, however, Jerry is not in her list.
(skipped the last part not related to Jerry)
Translated by Jerry;'s Kingdom. Thank you for the credits.
~~~~~~~~~~~~~~~~~~~~~~~~~~~~~~~~~~~~~~~~~~~~~~~~
LZL got high at Longines' Party
Whether she secretly met for 7 hours
Jerry respects her statements
Source:
www.appledaily.com.tw/AppleNews/ind...&art_id=2509343
April 2, 2006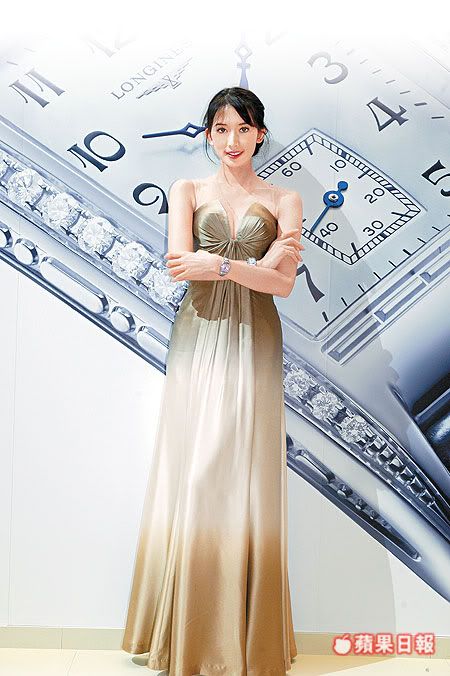 Earlier night, LZL, Longines (Lan Qin), Chairman Walter von Kaenel and the Taiwan Media was in Switzerland for a party. In keeping with the traditional Longines Dinner Party, LZL sends her thanks and farewell toast. as soon as the two glasses of red wine gets into her stomach, she immediately got red cheeks and appeared a little tipsy. The other day, she cleared up her rumored boyfriend Jerry, who himself appeared in Shanghai yesterday night for the Georgio Armani group. He said that he respects whatever she said in her statement.
Famous model didnt agree to perform solo
LZL in both red cheeks revealed "I usually dont drink too much liquior", even though she is a little tipsy. She still went with the people's celebration of singing and clapping, but not wanted to solo perform. Yesterday early evening, Jerry immediately arrived at the Shanghai Art Museum to join Giogio Armani in the launching of the high end designer collection line Prive. He was always shyly and virtuously smiling in the picture-taking. When he learned that the reporters were from Taiwan, he immediately flashed his happy response, with a happy face, and friendly exchange of greetings, although he has his assistant by his side to mediate. Regarding his rumored girlfriend statement declaring the false news that they met for 7 hours in HK, he lowered his head and smiled, "What she said is what it is" fully voicing out his respect for her.
Translated by Jerry's Kingdom. Thank you for the credits.
anyway... looking at both of them...emmmmm..they do look compatible...don't they??
No wonder these medias really....really... want them to be together......
~~~~~~~~~~~~~~~~~~~~~~~~~~~~~~~~~~~~~~~~~~~~~~
posted by kkla @ nbbbs.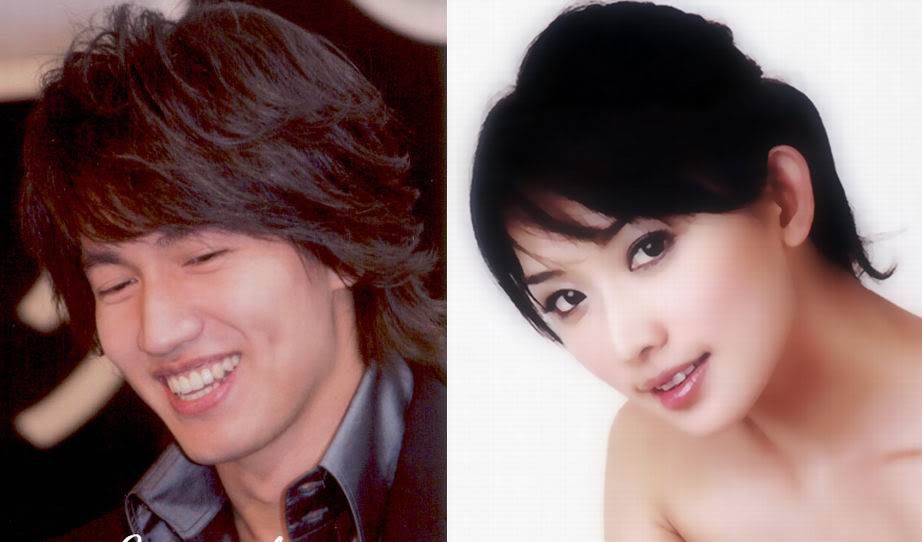 Today, Times Weekly Magazine (Shi Bao Zhou Kan, which is connected with Liberty Times) had a story about Jerry and Ms. Lin. As it is gossip, there has absolutly no proof, and we all know how good the Chinese paparazzi create fictitious stories, so please don't take it too seriously. After reading this, no wonder Jerry said in one of the recent interviews that now whenever he reads "Yan Cheng Xu and Lin Zhi Ling" on newspapers, it is like reading a new story everyday. The media knows what he is doing and where he is going more than he himself.
What happened was that long before the F4 Concerts and nine-month filming of WT, Jerry expressed his wish of taking a short break and studying abroad after these two projects. Coincidently, last week, Ms. Lin also announced to take a rest for six month (on the first day of news, she told the press that she would stop working for half a year soon to take care of her health as she was not fully recovered after the accident, then the next day, her agent told the press that the break wouldn't be as long as six months, and Ms. Lin will continue all the endorsement activities, etc...) Then the media starts to speculate whether Ms. Lin will take a break to get married. At the same time, the media also tries to find any connection between Jerry and Ms. Lin, and to make speculations without any proof.
source: Times Weekly Magazine (TW)
credit: Ciciny ofwww.nbbbs.com
summarized by kkla ofwww.nbbbs.com
~~~~~~~~~~~~~~~~~~~~~~~~~~~~~~~~~~~~~~~~~~~~~~~~~
img142.imageshack.us/img142/4460/61bq.jpg
It was speculated that when Ms. Lin travelled abroad, Jerry would accompany her.
img114.imageshack.us/img114/4584/72zs.jpg
~ It was speculated that they went to Swiss together between March 27 to March 31. Reason: Ms. Lin went to Swiss for filming a commercial, and Jerry just finished his F4 concerts and had no work at that time.
~ It was speculated that as Ms. Lin wanted to improve her Japanese, and at the same time, Jerry had finished the concerts and WT, he was encouraged by Ms. Lin to study abroad together.
~ According to their 'friend', they have considered studying in Britain or America, as they want to find a location with not too many Chinese. It was speculated that as Jerry couldn't take a break as long as six months, it would be most likely that Ms. Lin studied abroad and Jerry accompanied her. (kkla: They need to find a place with not too many Chinese, Japanese, Korean, Indonesian, Thai, Filipino,etc..., haha...)
img114.imageshack.us/img114/9063/86kt.jpg
~ According to Ms. Lin's agent, Ms. Lin is not taking a vacation, she will study for improving her skills. The boss of her modelling company will choose the courses for her and most likely, she will study in America, Japan, or Europe for improving her voicing and acting skills, so she may release albums and/or act in movies/dramas in the future. However, she will continue fulfilling her endorsement contracts, so she will have public appearances on a regular basis. Ms. Lin's agent further expressed that even Ms. Lin wanted to get married, it is normal for women at her age. Fans are more mature nowadays that they won't change their hearts just because their idol wants to get married. However, as getting married is something to celebrate, so Ms. Lin won't do it secretly.
~ When asked whether Ms. Lin would study abroad with Yan Cheng Xu, Ms. Lin's agent said, "It is quite impossible, as the courses she will take are chosen by the company. Shouldn't be. It is strange to have this kind of rumor."
img114.imageshack.us/img114/5030/90010ua.jpg
~ When heard about both Yan Cheng Xu and Ms.Lin's having plans to study abroad, Fenny, Yan Cheng Xu's assistant, grinned, "It is pure coincidence."
~ WT was planned to broadcast in May but it was delayed again, so it gives Yan Cheng Xu a short break. However, Yan Cheng Xu didn't want to take a vacation, instead he wants to use this opportunity to study abroad for improving his skills. Last week, Ms. Lin also released the same wish, so people can't help speculating whether these two have any plans studying together.
~ Fenny explained, "It should be pure coincidence. Jerry needs to finish planning some work promised before. Then after that, regarding where he will go and what he will study, it has not been decided yet. The company and Jerry are still discussing about the details, so I really can't give you any information at this time."
~ Jerry's agency further expressesd that Jerry was invited by a Japanese movie company for a movie project earlier and it is still under discussion at this point, so they won't rule out the possibility that Jerry's workload in Japan will greatly increase in the future. Therefore, Jerry expressed his wish of improving his English and Japanese. Fenny lightly answered, "We have not decided where is the destination, may be America or Japan, but as Jerry needs to finish some work promised in the past, he may need to keep travelling between places/countries. If he ends up going to the same location as LZL's, it is purely coincidence."
~ Before studying abroad, Jerry won't be free at all. Before the concerts, he practiced dancing a lot. Now, he is studying piano and other related courses. "Recently, we are busy at establishing the official website,so recently, Jerry will participate in the website establishing process a lot. We still need to finish taking a lot of photos. His most recent public appearances should be participating in some public events." said Fenny.
~ When asked about the speculation of Jerry's meeting Ms. Lin in Swiss between March 27 to March 31, Fenny answered, "How could that be possible? We flew back directly from HK to TW after the concerts on March 26, and it was seen by fans. Jerry has stayed in TW. On April 1, because of Jerry's public appearance in the Armani Show, we flew from TW to Shanghai at 5am in the morning. Time was too short for that, it was impossible."
Thanks to kkla @ nbbbs.